Having only another shrimp dish on this week's menu, I asked Jeff if he had any better ideas for dinner tonight. He suggested taquito burgers.
Taquito burgers came to be because his family came to town. Apparently that is constant motivation to perfect a meal. We had made burgers from scratch a few times before, but I wasn't going to settle with good. I wanted freakin awesome.
I grew up eating pre-made frozen patties, so when Jeff and I handcrafted burgers for the first time, I was in awe. Last summer, we tried a few basic recipes, consisting of mixtures with different spices, breadcrumbs, egg, and of course, beef. We also tried using ground turkey once, but I think I enjoy the rich beef taste better.
We ended up finding the perfect burger recipe one night when we were making taquitos. We often have a little leftover meat, and I was eating up the delicious flavor as quickly as I could. Then it occurred to me: this combination of flavors would make an amazing burger. And it did.
On the way home, I had the choice of going to Martins or a family run grocery store that I had passed by more than a dozen times. I chose the more adventurous route. And it was worth it.
This place smelled like my grandma's house, and looked like an Italian restaurant. In short, heaven. They had ground chuck that was ground in the store, from local beef. They had ridiculously huge (and delicious) tomatoes from Michigan, which I'm convinced I would be in heaven if I were to eat them like apples. Freshly baked bread that I sliced to make into buns. Heaven.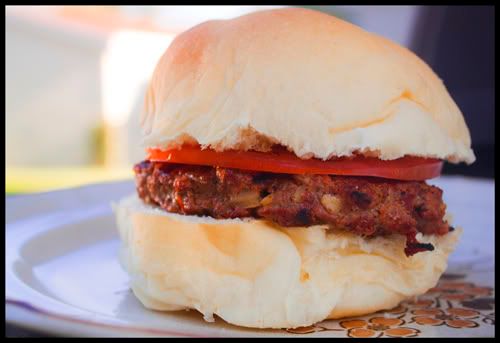 (4 Servings)
Ingredients:
1 lb ground beef
1/2 cup mild salsa, lightly strained
1 clove garlic, minced
1/2 cup onion, minced
1 teaspoon chili powder
1/2 teaspoon salt
1/4 teaspoon pepper
Combine ingredients.
Heat grill to 500 degrees.
Cook for 3 minutes on each side, burgers will be fragile.
When we first made the burgers, we didn't strain the salsa, and the burgers were super-fragile. Without those extra juices, the burger is significantly sturdier; but don't be fooled, you still need to be gentle.
Jeff wasn't sold on the fancy buns, he said that they were rather dry. I agreed, but I enjoyed the texture of them. Honestly, even if we used the cheapest buns we could find, I'd still be happy to eat this burger up.