In the Cooking for Two book that I own, a long time ago I had grabbed a recipe for using up the other half of the cucumber from
here
. From what I can tell, it's fairly classic in it's use of dill and sour cream, but it was very tasty, and super easy to make.
To create the salad, I tossed the cucumber and a chopped shallot with some salt and let it sit for an hour in a colander. The sauce consists of sour cream, dill, apple cider vinegar, and sugar mixed together. When the cucumber is done draining, mix them with the sauce, and serve.
One of the things I wasn't expecting was how little this recipe actually makes. It was alright for two side servings (which is appropriate, considering the name of the book it came from), but thankfully it can be easily doubled.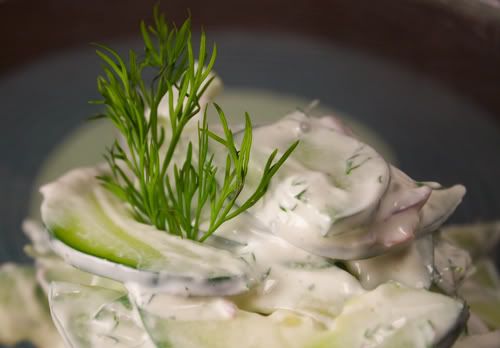 Creamy Dill Cucumber Salad
Ingredients (Serves 4)
1 cucumber, halved, seeded and sliced thin
2 shallots, sliced thin
1/2 teaspoon salt
6 tablespoons sour cream
2 tablespoons dill, minced
2 teaspoons apple cider vinegar
1/4 teaspoon sugar
pinch salt
pinch pepper
Toss the cucumber and shallots with 1/8 teaspoon salt in a colander and let drain for 15 minutes to 1 hour.
Mix the sour cream, dill vinegar and sugar together in a small bowl.
Stir in the drained cucumbers and shallots season with salt and pepper to taste, and refrigerate until chilled before serving.