I blog this while there is a tornado warning, which is always a great time to blog.
A side note, I know my goal was to have a new ingredient each week, but life happens. It's a goal, and I can try at least. This week I'm pretty sure it will happen, considering last week I couldn't actually find the ingredient I wanted to use.
Last night I made a delicious dish that is so complicated I originally had to make a spreadsheet to get organized on the timing. It involves about five layers of food, which the original instructions instructed to make one by one. The spreadsheet's purpose was to make sure everything was completed at the same time.
An experiment was conducted last night to prove the spreadsheet was a better way; I've already tried the spreadsheet version three times, so I needed to try the full version.
The last layer of the dish needed to be prepared first. Bean sprouts, carrots, and cucumber were to be pickled in the refrigerator while the rest of the dish was cooking. The oven heated to its lowest setting, bowls are placed inside to heat up.
The first layer that goes in the bowl is short grain rice, cooked and cooled, then browned. The second layer is a mixture of beef and shiitake mushrooms. It's important for the mushrooms to be cut (or broken in my case) into small pieces, that way they can cook quickly, and you don't have to overcook the beef trying to finish cooking the mushrooms. The third layer is garlic and spinach that is cooked until wilted. The fourth is just an egg cooked sunny side up, and the fifth layer is the pickled vegetables. Each layer is added on top of the other to the bowl in the oven after completion.
As you can imagine, from that description it is more than complicated to have each of these items done at the same time, but it can be done. And, for the sake of time, it should be. The time it takes to cook everything using the spreadsheet, not counting food prep, takes about 30-40 minutes. Doing each item 1 by one takes about a hour and a half. It's so worth the effort.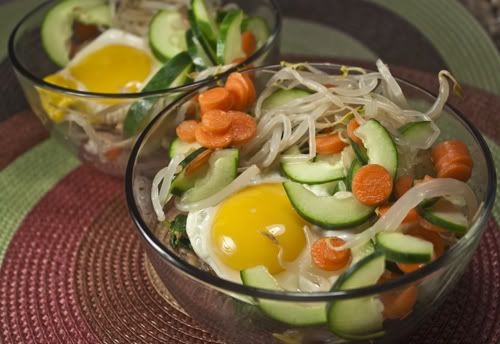 Savory Beef with Pickled Vegetables
Ingredients (Serves 2)
1/2 cups bean sprouts
1 carrot, peeled and grated
1/2 cucumber, peeled, halved lengthwise, seeded, and sliced 1/4 inch thick
1/2 cup rice vinegar
1/2 cup short grain rice, rinsed
1/2 cup water
8 ounce steak, trimmed and cut into 1/8 inch thick slices
2 tablespoons soy sauce
6 ounce shiitake mushroom, stemmed and sliced
2 cloves garlic, minced
3 ounces baby spinach
2 eggs
1 1/2 teaspoon sesame oil
Toss the bean sprouts, carrot, cucumber, and vinegar together in a medium bowl.
Press lightly on the vegetables to submerge in the vinegar as much as possible, then cover with plastic wrap and refrigerate for 30 minutes to 24 hours. Drain when ready to use.
Place oven rack in the middle of the oven, and place two bowls on the rack. Preheat oven to 200 degrees.
Bring the rice and water to a boil in a skillet over high heat, then cover and reduce heat to low, cook for 7 minutes.
Remove rice from heat and let sit, covered, for 15 minutes.
Return the rice to the skillet over medium high and cook uncovered for 7 to 9 minutes, letting the rice crisp.
Divide rice between bowls in the oven.
Toss the beef and soy sauce together, and heat 2 teaspoons of vegetable oil in a skillet over medium high until just smoking.
Add the beef, soy sauce, and mushrooms, and cook until beef is medium rare.
Divide beef and mushrooms between the bowls in the oven.
Add 1 teaspoon of vegetable oil to the skillet and heat to medium high, and add garlic until fragrant.
Add spinach to the skillet, and cook until wilted; season with salt and pepper, divide between bowls in oven.
Add 1 teaspoon of oil to the skillet, and heat to medium high.
Slide the eggs onto the skillet from opposite sides of the pan, and season with salt and pepper.
Cook until the whites are set, but yolks are still runny, 2 to 3 minutes.
Slide each egg onto the bowl, and remove bowls from oven.
Drizzle bowls with sesame oil, and add pickled vegetables, and serve.
This recipe was adapted from one in the book America's Test Kitchen - Cooking for Two.