Instead of cooking the shrimp before I cooked the sauce, I cooked the shrimp in the sauce, and it made an amazing difference.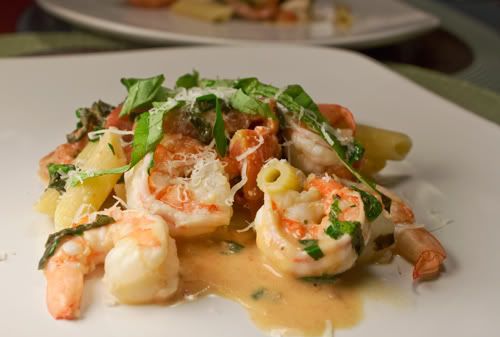 Penne with Shrimp and Herbed Cream Sauce
Ingredients (Serves 2)
2 oz penne pasta
1 tablespoon olive oil
1/2 lb medium shrimp, peeled and deveined
1 clove garlic, minced
1/6 teaspoon kosher salt
pinch pepper
9 oz whole tomatoes (from a 14oz can), drained and roughly chopped
1/6 cup basil, chopped
1/6 cup parsley, chopped
pinch red pepper flake
1/3 cup white wine
1/6 cup clam juice
1/4 cup heavy cream
1/6 cup parmesan cheese, grated
Bring a pot of salted water to boil, and cook pasta according to directions; drain pasta, and set aside.
In a large skillet, heat oil over medium high heat; add garlic and cook until browned, about 1 minute.
Add tomatoes, 1/2 of the basil, 1/2 of the parsley, and the red pepper flakes to the skillet and cook for 2 minutes, stirring constantly.
Add the wine and simmer for 2 minutes.
Add the clam juice and cream, bring mixture to a boil; reduce the heat to low and simmer for 7 minutes until the sauce thickens.
Add 1/2 of the parmesan cheese, the shrimp, the pasta, and the remaining basil and parsley.
Stir and cook until shrimp are pink.
Top with remaining cheese and serve.