It came to my attention this afternoon that I needed to have an appetizer dish for a Christmas party tomorrow. I don't know how to do appetizers, I know meals. Thankfully, I have books that tell me things like this. I knew that New Italian Favorites had a nice chapter dealing with pre-meal eats, so I flipped through the chapter and looked for a recipe that had three characteristics: it could be served cold or room temperature, it had to be simple, and it had to taste good. I decided on the Tuscan Mushrooms.
Giada never really explained why these mushrooms were particularly "Tuscan", so I can assume it's the type of ingredients. The stuffing consists of jarred roasted red bell peppers, green olives (no pits or other junk), Romano cheese, and green onions. I had never heard of roasted red bell peppers in a jar, so I knew it would be an interesting search in the rush before Meijer closed this evening at 7. The shopping trip went relatively well, with me only having to ask assistance for basil and the peppers. There is a constant shortage at my Meijer on fresh basil; as for the peppers, two guys ended up helping me search up and down the isles. They both knew that Meijer had it in stock, so it was simply a matter of where. "They don't tell us about when they move stuff; the least they could do is send us an email about it." I replied, "Well, considering how much stock your store has, I'm pretty sure your inbox would be full very quickly."
The roasted peppers were interesting to dice, as their shape didn't resemble the common bell pepper shape we all know and love; rather, they looked like the body of a cleaned squid. I chopped up the green olives (which I halved the amount because of my own dislikes) and green onions, and added Romano cheese, salt and pepper, and mixed it all together. The mixture tasted interesting, with a strong brine flavor.
I purchased mushrooms that were labeled as stuffing mushrooms, thinking these would be more convenient in some way. Really, the only difference between them and regular button mushrooms is the size. I think I like the stuffing mushrooms better, more room for, you guessed it, stuffing.
I arranged my 7 large mushrooms on a baking sheet, and baked them for 20 minutes.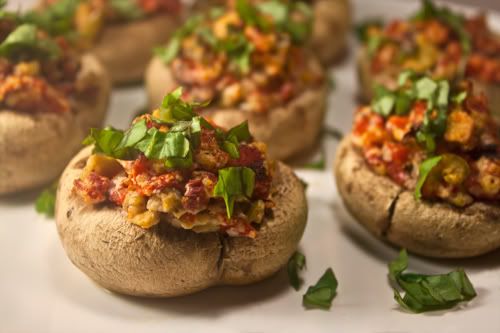 They turned out looking AMAZING. I love the colors and textures. They tasted pretty darn good too. Jeff and I found that if we sliced them in half, they were more manageable to eat, rather than attempting to control the stuffing with our mouthes while we chewed. They also looked pretty neat sliced in half, but I didn't get pictures of that. Maybe next time.
So, we'll see how well they go over at the party tomorrow...fingers crossed. I hate doing things so very last minute like this, but I'm pleased the mushrooms turned out so well.
Tuscan Mushrooms
Ingredients
1/2 cup jarred roasted red bell peppers, diced
1/4 cup green olives, pitted and diced
1/2 cup Romano cheese, freshly grated
2 green onions, white only, finely chopped
1/2 teaspoon salt
1/4 teaspoon black pepper
14oz white button stuffing mushrooms, stemmed
1/4 cup basil, finely chopped
Preheat oven to 400 degrees; line a rimmed baking sheet with parchment paper.
Mix peppers, olives, cheese, green onions, salt, and pepper in a bowl.
On the baking sheet, arrange the mushrooms gill side up.
Spoon the filling into the mushrooms, mounding it slightly.
Bake until mushrooms are tender, about 20 minutes.
Top with basil and serve.