One of the staple shrimp dishes I have found over the time I have been cooking is called Szechwan Shrimp. For the longest time, I had no idea how to pronounce Szechwan, so I simplified it to "awesome". I'm pretty sure I could eat two portions or more at one setting.
I've done this dish enough times, that with the exception of the rice, I don't have to use a timer, so the times aren't in the recipe.
For those who don't know how to cook shrimp, it's very simple, and takes about 3 minutes for medium to small shrimp. As the shrimp cook, they turn from translucent purple to a light pink, and will curl up tight. It's important to stir the shrimp as they cook, so they are cooked evenly on both sides. I like to pour the shrimp into the pan, make sure they are all laying on their side, then flipping them individually. Because the shrimp are going to be in the pan while the sauce is cooking, it's important to add the sauce as the shrimp are almost done cooking, so the shrimp wont over cook.
The sauce is made up of odd kitchen staples, such as ketchup, soy sauce, honey, and corn starch. It takes about 3 to 5 minutes for the sauce to thicken.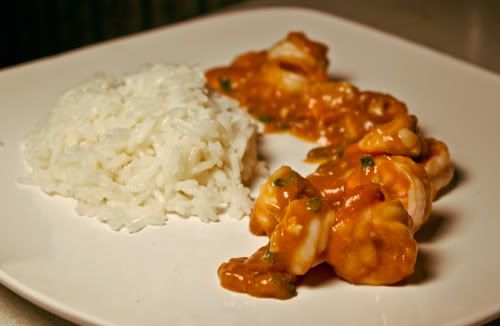 Szechwan (Awesome) Shrimp (Serves 2)
Ingredients:
1/4 cup water
2 tablespoon ketchup
1 tablespoon soy sauce
2 teaspoons cornstarch
1 teaspoon honey
1/4 teaspoon dried ginger
1/8 cup green onion, sliced
2 cloves garlic, minced
8 ounce shrimp, peeled and deveined
In a bowl, mix water, ketchup, soy sauce, cornstarch, honey, and ground ginger.
Heat 1 tablespoon vegetable oil in skillet.
On medium heat, stir in green onions, garlic, and shrimp.
When shrimp is cooked, add the sauce.
Cook until sauce is thick and bubbly.
Serve over rice.